Design Your Own Solid Wood Screen Door
If you have searched high and low to find the perfect screen door on our website but just can't seem to find one that strikes you, then look no further. You can use the design your own screen door tool to create your very own screen door design. If you want to work with an actual person, you can always contact our design team directly and we will work with you personally to design the screen door of your dreams. You can also send us a photo or drawing of a door you have seen and want duplicated. Either way we will work with you one on one to get you the perfect wood screen door design.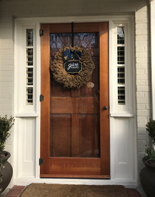 Design Your Own Screen Door with: Removable Screen & Storm Inserts
Your door can be built the way you want it and with our interchangeable screen and glass it can be enjoyed year round.
Screen Availability Includes: Fiberglass, Aluminum (black and silver), Copper, Pet, No See Um, Clear Advantage
Storm Availability Includes: Tempered Glass (clear), Low E Tempered (energy efficient)
Screen Frame and Glass Frame is available in white or bronze.
Purchasing Made Simple
| | |
| --- | --- |
| | Submit Your Quote |
| | Proposal with Drawing Sent |
| | Review for Accuracy + Place Order! |

Please follow these simple directions to design your very own screen door. Loading may take time but placing a personal touch on your home will be worth it! If you experience any problems please call us toll free at 1 800 787 2001. We will personally work with you to create a custom design of your own.
Step 1: Click on "Raised Wood Panel" or "Traditional Style". Screen Doors are broken down into these two base model categories.


Step 2: Click on your starting base design. Victorian accents/brackets and spandrels can be added to your base model.


Step 3: Click on dotted area you wish to customize. A listing of Victorian bracket and spandrel options will populate on the door's right.


Step 4: Click on the bracket or spandrel design you wish fill the dotted area with.


Step 5: Repeat Steps 3 & 4 until you are satisfied with your creation.


Step 6: Click "Contact for Pricing" at bottom of page and then submit the order form to receive a quote on your newly designed custom door.
Start by Selecting a Base Screen Door Design Below
| | | |
| --- | --- | --- |
| Raised Wood Panel | Traditional | Manhattan |