| | |
| --- | --- |
| 0 Items to Quote in My Project Cart | |
About YesterYear's Vintage Doors & Milwork, LLC

| | |
| --- | --- |
| 0 Items to Quote in My Project Cart | |
Created in 1990

YesterYear's Vintage Doors was created in 1990 with a vision and passion for fine woodworking and craftsmanship. Each solid wood door is built just like the olden days - one at a time - and made to endure the test of time. The very first solid wood door productions were the Victorian style screen & storm doors. Initially, only six designs were offered to the public. As demand grew, additional Victorian and Traditional screen & storm designs were added, as well as a small collection of interior and exterior door models.
Values Vintage Accuracy over Mass Production
Today, nearly twenty years later, YesterYear's has not lost sight of its passion and vision - always preferring historical accuracy and handcrafted integrity over mass production. The company boasts over 130 screen and storm door designs for virtually any style of home! YesterYear's has also continued to expand their interior and exterior door collections and is able to cater to practically any custom project or specification. To add even more vintage charm to your home, YesterYear's has recently introduced a unique line of distinctive Dutch doors, which have been featured on HGTV's renowned show "Curb Appeal" in 2005 and also Country Home's Kitchen & Bath Show located in Chicago, IL in 2007.
Located in Northern New York
Nestled along the picturesque St. Lawrence River of Northern New York, the family owned and operated business strives for quality and creative detail in every single solid wood production. Just as each and every door requires individual attention, so does each and every valued client. YesterYear's provides exceptional customer service throughout the entire order process - from the very initial quote request, to ordering and delivery.
Featured in Prestigious Homes & Buildings across the Country
Let us bring the beauty and character of solid wood into your world, wherever that may be. Whether you are looking to restore or construct a charming bungalow in Chicago, a colonial home in Boston, a classic Victorian in Cape May, New Jersey, an ocean front mansion in California, a mountain retreat in Colorado, or even an urban residence in New York City, YesterYear's solid wood doors have graced countless prominent homes across the country. YesterYear's even has doors present in highly established business buildings, including the U.S. Capitol! Working directly with homeowners, leading architects, builders and designers YesterYear's will ensure that your home or business captures the attention of all who encounter it for generations to come.
Where You've Seen Us:
This Old House
The December 2010 issue featured our distinctive and unique pet doors among their Best New Home Products for 2010. (Our product is listed under Windows and Doors). We were among the top manufacturers in the country to come out with this year's freshest ides for your home. The article featured our "Cottage Charm" screen door with a funtional and stylish pet door built in! View more of our Distinctive Pet Doors.
Lake Erie Living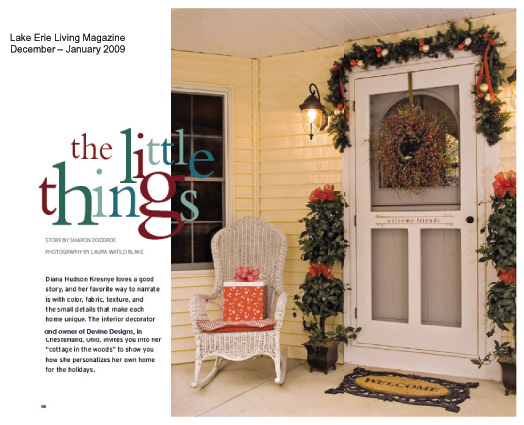 Home & Garden Television, 2005
Featured our Unique Dutch Doors. A classic exterior Dutch door design was displayed in the "Wild West Update" - where a Californian 1942 ranch home received a fresh makeover with Western touches. View the remodeling article on their web site: HGTV or go here to view our Distinctive Dutch Doors.
Country Living & Country Home & Victorian Homes 2002-2003
Featured our distinctive & elegantly handcrafted screen & storm doors. The February 2002 issue of Country Living featured our "Islander" screen door in their "Red, White and New" article - the Islander was our very first Victorian design created and still remains an attractive choice for cozy cottages and Victorian homes throughout the country. Take a minute and view our Distinctive Victorian Screen Doors.
| | |
| --- | --- |
| | Country Living: February 2002, "Red, White & New" |
| | Country Living: September 2002 |
| | HGTV: January 2005, Wild West Update |
Other National Publications:
Country Home: May, 2003, "A Welcoming Mudroom"
Country Victorian: Winter 2002, Special Renovations Guide